1920's New York Lobby Restoration . New York City / NYC

Architect : Amber Construction . Collinsville / CT

Photos : Adrian WM Jones
About The Architecture

A stunningly classic New York Lobby restoration with all the atmosphere you would expect from a regal mid town 10 story co-operative. This beautiful lobby space features original marble details and wood paneling combined with painted marble accents. Tastefully revived with a classic New York look it embodies the acute sense and vision of the team at Amber Construction and takes you right back to the 1920's.

About This Shoot

This incredible New York lobby was shot unseen in about 8 hours. I knew it posed multiple challenges with regard to lighting and capturing it's sense of timeless design and potent classic NYC atmosphere. After studying the images I could find online from real estate shoots at this address I knew that this would be one of the most difficult shoots I had encountered to date. The gentle gloss finish on the wood paneling, the highly polished tiled floor, the 25 or more sconces being the only source of light along with a Christmas tree all muddled with the endless foot traffic you would expect from a 10 story New York co-op on the 23rd of December.

Each shot was carefully lit using multiple set ups with Lowell DP hot lights, each surface of every image had to be lit and shot independently and then masked together in post production. For example the main shot with Poinsettia and Christmas tree was lit and re-shot every 3-4 ft since the reflections of each set up were so dramatic it was the only way to capture the details and finishes accurately. In order to capture the craftsmanship as well as the atmosphere it was necessary to light the setting in this way, without access to the main lighting switch the bulbs from each sconce had to be unscrewed, shot, then screwed back in again, this process had to be repeated many times over for each shot and then again for each new set up. To highlight the complexity of this photographic puzzle I have included some set up shots below. Ultimately I did depict this lobby slightly brighter than it actually was, but this was ultimately necessary in order to convey both the details and the mood collectively.

Photo Shoot Set Up Images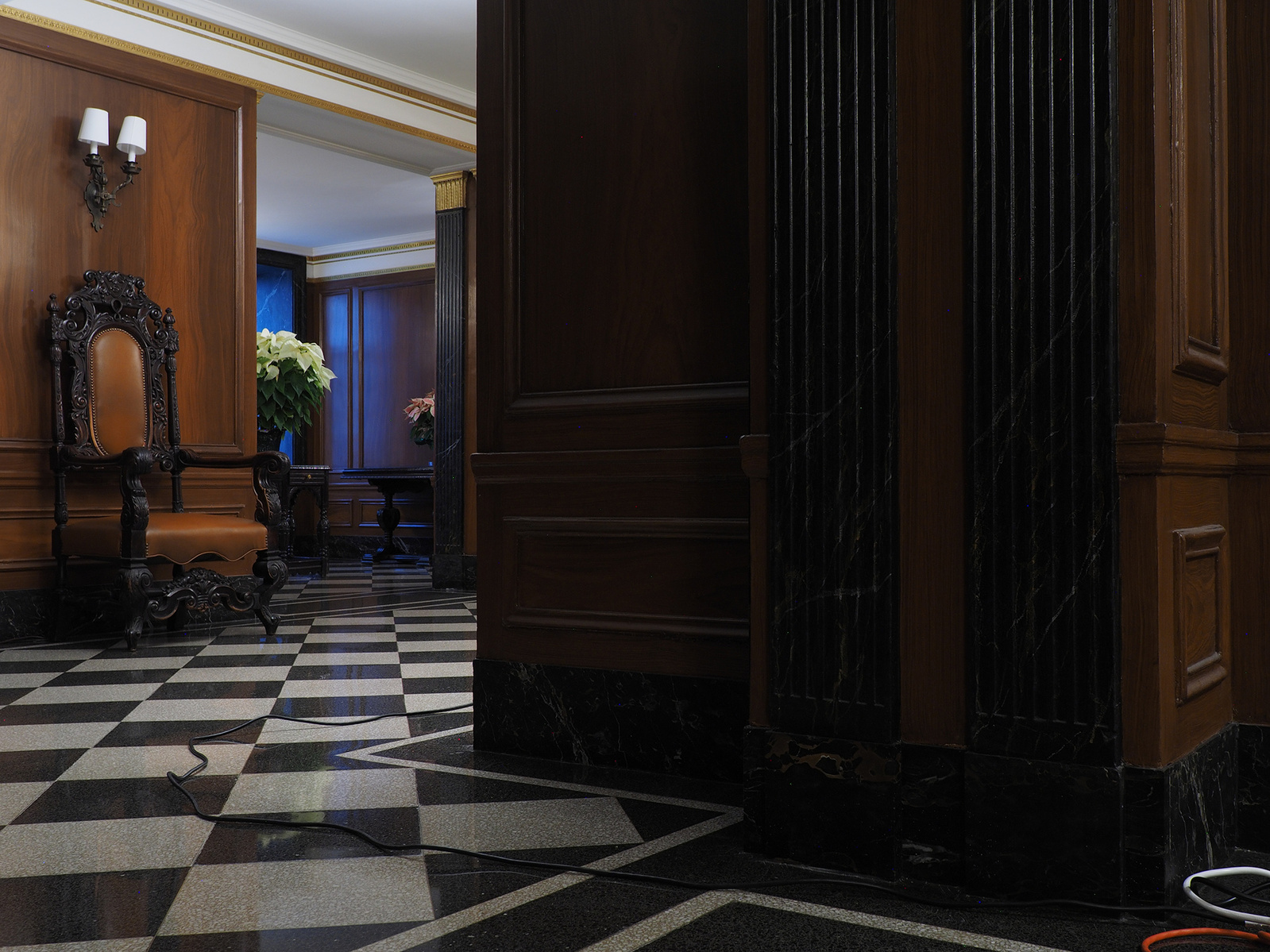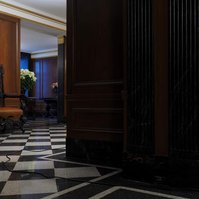 Adrian WM Jones

Adrian Jones is a Connecticut based architectural photographer & documentary photographer. With over 20 years in the field he has worked in many areas of the film and photography industry and now uses his vast experience to focus on photographing architecture for architects and personal documentary projects.

Get InTouch